ALMS (Agillence Logistics Management System)
ALMS is a system to manage routes and loads in complex lean logistics network. 
It allows multiple users with different functions to work collaboratively by connecting to one single system through internet; managing route planning, load execution, and bill payment seamlessly.  It provides enterprise-wide visibility of common logistics data over geographic, organizational, and temporal barriers.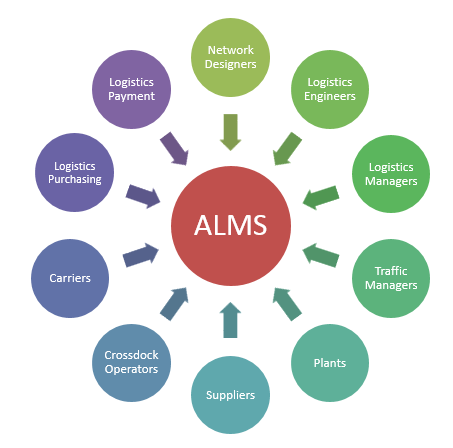 Challenges
Logistics management includes many different activities over long time period,  from design, planning, execution and payment. In addition, it involves many entities with different goals such as plants, suppliers, carriers, crossdock operators, logistics purchasing, logistics payment, and logistics service providers (network designer, logistics engineer, logistics manager, dispatcher).  In logistics where rubber meets road, there are plenty of exceptions that throw off any well intentioned plans and schedules.
Typically, logistics management uses many different systems with poor communication, cumbersome interfaces, duplicities, errors, and lack of visibility that result in very high costs to all parties involved.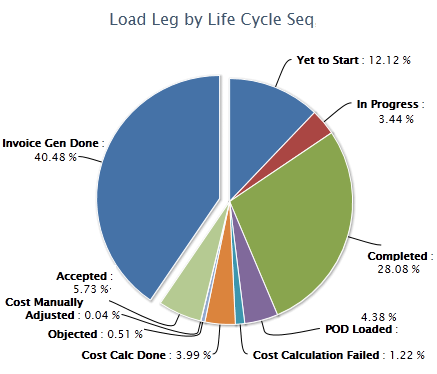 Key Features
Management of operational route planning and maintenance
Full life cycle management of loads from generation to payment
Track and trace of loads in real time
Shipment visibility from pickup to delivery through crossdocks
Event logging and communication recording
Email broadcast by events
ACA (add/cancel/adjust) management
Hot load management
Management of proof of delivery document
Random POD audit management
Automated daily cost calculation
Manual cost adjustment
Management of carrier acceptance or objection to calculated costs.
Transportation rate management with many accessorial charges
TONU, detention management
Self bill invoice generation
Cost allocation
Inter-company invoice generation
Dashboard
Reference Articles