Agillence Logistics Management System
ALMS is a special hybrid TMS+WMS system to manage routes and shipments in a complex lean manufacturing network.  When deployed in conjunction with Agillence Lean Logistics Optimizer (ALLO), clients have a seamless solution that supports the Plan-Do-Check-Act (PDCA) continuous improvement cycle.
It  enables multiple users with different logistics responsibilities to collaborate in managing route planning, load execution, and freight payment.  It provides enterprise-wide visibility of common logistics data and exceptions over geographic, organizational, and temporal barriers.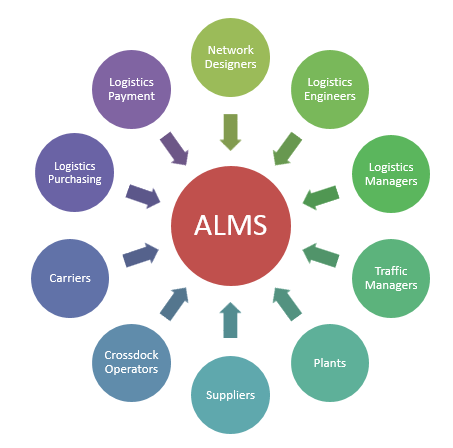 Logistics management includes many different activities over long time period,  from design, planning, execution and payment. In addition, it involves many entities with different goals such as plants, suppliers, carriers, crossdock operators, logistics purchasing, logistics payment, and logistics service providers (network designer, logistics engineer, logistics manager, dispatcher).  In logistics where rubber meets road, there are plenty of exceptions that throw off any well intentioned plans and schedules.
Typically, logistics management uses many different systems with poor communication, cumbersome interfaces, duplicities, errors, and lack of visibility that result in very high costs to all parties involved.
Key Features
Lean Manufacturing Centric
Supports multi-tier crossdock network
Change management (routes,  packaging)
Automated handling of packaging supplier interface (weekly, daily, ASN)
Visualizations for data exceptions
Automated ship volume calculations
Process automation to reduce manual efforts
Full life cycle management of loads
Crossdock management
Self bill invoicing with several audit checks
SaaS and Cloud based scalable & secured platform
Seamless integration with

Agillence Lean Logistics Optimizer (ALLO)

Benefits
Single point of truth of complex logistics data
Visualize data and highlight non-conformances and variation
Enables team member collaboration
Minimizes IT infrastructure & support investment
Creates visibility to operational level continuous improvement ideas & optimization
Supports data-driven, cyclical, operational-level route planning
Supports use of multi-tier crossdock strategy
Integrates with

ALLO

to support streamlined cyclical network optimization process
Creates organizational visibility to variations in the logistics operations
Supports lean back-office business processes to streamline continuous improvement efforts