Agillence Lean Logistics Optimizer
ALLO is a tool to design and plan high-frequency lean logistics network using crossdocks and milkruns. It optimizes simultaneously all aspects of the problem; network design, order frequency, detailed routing, and 3D stowage.  The lean logistics is essential in industries such as automotive and retail.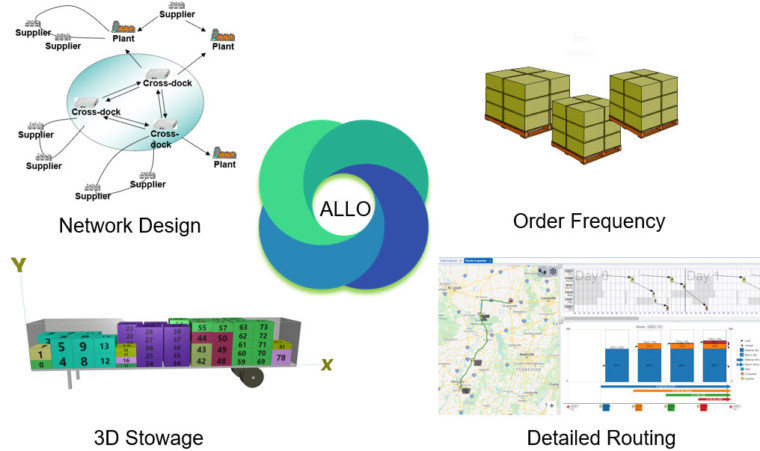 ALLO is a tool to design logistics network with crossdocks and milkruns for strategic and tactical purposes.  It produces high frequency lean logistics network at low costs. Lean Logistics is characterized by high frequency replenishment and freight consolidation utilizing networks of crossdocks and milkruns. It promotes continuous flow of products from origin to destination by the pull of actual consumption and thereby eliminates wastes. The results are low inventory, high availability, resource smoothing, and improved asset utilization at low costs. It is extremely difficult, however, to design a lean logistics network due to complex constraints and astronomical possibilities. ALLO can help you to design such a lean logistics network with ease and to revolutionize your logistics network. Inbound example of lean logistics is found in automotive industry to support JIT production.  Retailers also need lean logistics, in outbound, due to store space restriction and service level requirements. When deployed in conjunction with
Agillence Logistics Management System (ALMS)

,
  clients have a seamless solution that supports the Plan-Do-Check-Act (PDCA) continuous improvement cycle.
The following questions can be answered by ALLO:
How do I switch from my traditional practice with many inventory stocking points to new lean logistics
What is the logistics cost for different leanness of the network
What's the impact of new plant location?
What should be my new network to support FGP (factory gate pricing) or DSD (direct store delivery)?
Where do I put new crossdocks and in what capacities?
Should I use rail?
How can I be responsive to irregular demands?
How do I cope with higher fuel cost and stricter driving rules (Hour of Service)?
How can I lower my inventory level while maintaining or improving service level?
Can I generate route designs practical to carriers and suppliers?
How do I know if my crossdock territories are optimal?
What should be optimum pickup/delivery frequencies?
The pictures below are some of the outputs of ALLO, result of one simultaneous optimization.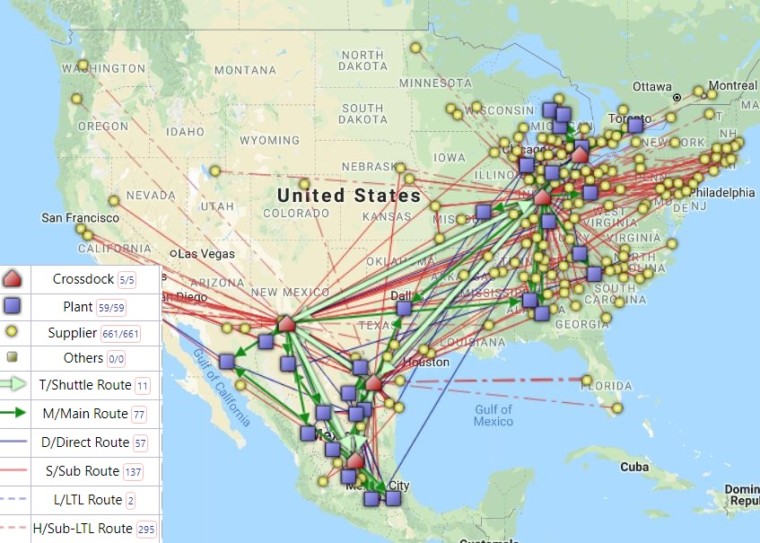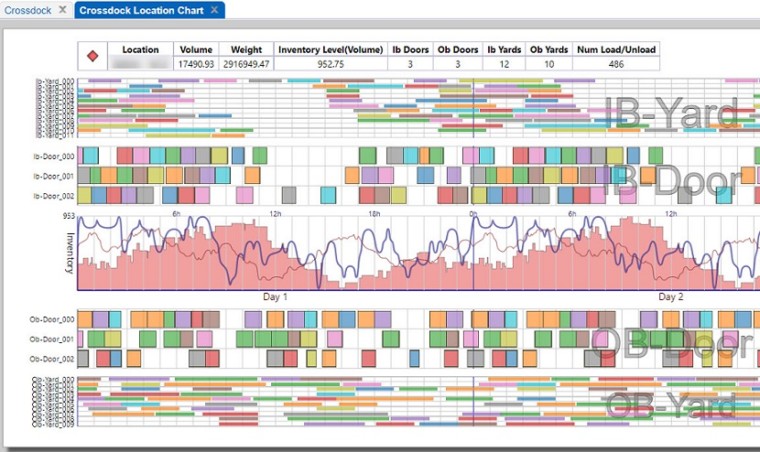 Key Features
Simultaneous optimization of Network Design + Order frequency + Detailed Routing + 3D stowage
Dock door and Resource scheduling
Frequency Optimization of pickup and delivery at part level, while honoring lean constraints
Heijunka across the network
Support for various types of routes; Direct, Crossdock, Shuttle, LTL
Routes close to implementation
Pickup and delivery frequency constraint (metering from crossdock)
Rich transportation cost modeling; mileage, stop charge, minimum charge, fixed cost, TL table, LTL table, roundtrip, one-way
Resource based costing – driver, tractor, trailer, and mileage
Multi-echelon – multiple legs of shuttle routes
Leadtime constraint at part/OD level for service based networks
Asymmetric route – different visit frequencies within the route
Multiple time windows for stores/suppliers
Detailed driving rules – single, team and hours of service
Easy baselining for partial optimization and benchmarking
Seamless integration with

Agillence Logistics Management System (ALMS)

Intuitive scenario management facilitates collaboration between group of users
SaaS and Cloud based scalable & secured platform
Concurrent optimization of multiple scenarios
Reference Articles